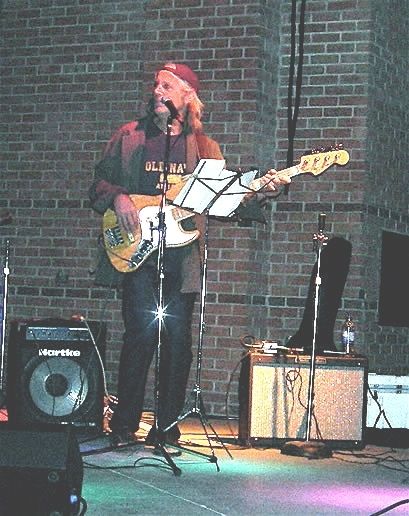 Gregg D. Hollister
Bassists/ Vocalist/ Songwriter
www.greggdhollister.com and facebook
Gregg D. Hollister is a pro sought after musician / vocalist with a distintive style has kept him in demand for many years.  Chances are you have heard him several time "On Air".  Some of his commercial work includes radio and TV spots for Kodak, Budweiser, Sony, JVC, Coca Cola, Life Savers, Mars Candy, Club Med, Yamaha Motorcycles, Goldstar and Hertz rentals as well as international jingles in Japan and Europe.  His industrial work has included tours in South America and Europe for companies such as Shering-Plough, Ciba Geigy, Coke and Smith Line Beecham to name a few.

Gregg's soulful voice has been procured for record projects such as Ron Saint Germain (311, Creed, Living Colour), Andrew Loog Oldham (Rolling Stones), Sandy Linzer (Cory Daye, The Savannah Band), Phil Ramone (Phoebe Snow), Stan Vincent (The Five Stairsteps), Ron Dante (Barry Manilow), Tommy Motola (Hall and Oates), Tommy James, Jimmy Wisner, Al Kooper (Blood Sweat and Tears), and Joe Delia (Buster Poindexter) among them.

Gregg has toured or performed with the likes of Vickie Sue Robinson, Cory Daye, Fatback, Frank Weber, David Spinozza, Richard Lloyd, Phoebe Snow, Ben E. King, Al Kooper, Richie Havens, Rachel York, Ian Hunter, Ellie Greenwhich, Paul Schaefer, Ron Dante, Richie Rano (starz), The Rockspurs, Daryl Canada and Anthem.

TV and film work includes a stint with The Uncle Floyd Show Band (1980's in NBC), soundtrack on movies such as "The Bad Lieutenant" (starring Harvey Keitel), "The Driller Killer" for director Abel Ferrar, the John Stamos movie "Grownups", documentary work, childrens film work for Gary Haberman productions and PBS.

Over the years Gregg has had the opportunity to play with diverse artists such as Willy Bridges (King Curtis), Jimmy Vivinno (Conan OBrien, Fab Faux), Mike Shrieve (Santana), Leon Russell, John Dawson (The Strawbs), Ian Hatton (Jason Bonham), Vince Martel (The Vanilla Fudge), Ticco Torres (Bon Jovi), Mark McMillen (Bobby Caldwell) Andy Newmark (Roxy Music, John Lennon), Roy Martin (Modern English) Tommy James, and James Leahey (John Waite and Dennis D'Young).  Gregg has recorded as a member of several groups and solo artists: The Rockspurs (DJM), Frank Weber (RCA), Anthem (Buddah/Kama Sutra), The Daryl Canada Project (Atlantic), Illogical Poetry (Midatlantic), Fatback (Cotillion), Futureband, Kellie Sae (Futureband Records), Tommy James (Aura), Cory Daye (New York International), Masayoshi Takanaka (Sony), Our Father's Music Business (OFMB)  and  Indie CD "Streetkind"'

In addition to the Marco de Sade CD "Take No Prisoners," Gregg currently has two solo CD's, "Watching The Time Go" and "No Turning Back", as well as his own publishing company (Ashleki Music) in addition to BassHarp Music Publishing with partner Marco Trezza, and publishers Lagoona Music (Japan), DJM/Northern Songs U.K. and Mindermusic U.K.  On the New Jersey scene he is playing with local talent such as "The Flying Obersons" featuring Rick Oberson, and Ray Longchamps' Allman Brother Tribute Band "The Peach Project", Hollister and Friends, and of course, The Marco De Sade Band.

Rick Oberson
Guitar, keyboards, bass, vocals
Rick Oberson has had a 'life-long love affair' with all types of music; that started at the robust young age of three when he anxiously began mimicking his then hero Ricky Nelson and then his all time favorites The Beatles.  From formal training on classical guitar and piano.... to music theory, ear-training, and music history... not to mention a host of pickup and garage jam-bands interspersed throughout his 'Wonder Years'...

In the early 80's, Rick formed IMPORT an 8 piece horn band playing blues / dance / funk / jazz / r & b, and rock and roll.  In the late 80's, Rick became the lead guitarist and a singer for 'The Motones'.  In the early 90's he formed the 'Deacon-Oberson Duo' complete with personally sequenced tracks.

In 2004 Rick joined the Kootz.  It was through The Kootz that Rick met up with Gregg Hollister.  When the pair realized they shared many common musical tastes, each with a different approach, they decided to put together a new band of players dedicated to their goals and styles.  They formed a new band called "The Flying Obersons".  They began performing to rave reviews by their peers and audiences in the summer of 2008 through-out the metro area.  As Rick says, "You never know which tune is just gonna 'pop-out' at any given moment"!... and then Rick and Gregg joined with Marco to form Marco de Sade.  An upstanding resident of New Jersey, married, with two great children.... he also embraces a very simple formula for a life of contentment; "Family, Music, Golf... Love & Laughter!"

In Loving Memory:  "When we die we all come back as music."  We miss you, Brother.          Greg Hollenbeck  (1948-2013)
Drums, percussion, vocals
"
The ride started in 1964. I auditioned for Fred Kelly (yes the brother of Gene Kelly/"Singing In The Rain") who was in charge of putting acts together for the 'New Jersey Pavillion' at the 1964 World's Fair in New York. I got the gig along with another unknown at the time Joe Walsh. I forget who was on piano and bass but I should have stayed in touch with Joe but who knew? OH WELL!!! A string of bands followed one of them being The Fugitives which included Ricky Blakemore and Bobby Daniels (later members of Fandango, with 4 Albums on the RCA label) which yielded a single on London Records that broke into the top 100 on the Billboard Charts (with a bullet!). We played all the hot clubs at the time in NYC (Trudy Hellers, Arthurs, The Nite Owl, Cafe' Wha, etc.). I think the single eventually reached somewhere in the 50's. 

I then became involved in the Rockland County music scene which had some great bands and clubs and which also landed me a gig in a band called Anthem (better known locally as the 'Silver Caboose'). I replaced their drummer, who had just started a family and couldn't tour to support the album (on Buddha Records, w/ producer Stan Vincent; Five Stair Steps/ 'Ooh, Ooh Child'). That was my first gig with Gregg Hollister. It was great to walk into WNEW with the promo man for Buddha and have Allison Steele just throw the album on the turntable and play 4 tracks off the album. Just try that today.....

The next notable 'tour of duty' was with a road company for the play 'Jesus Christ Superstar'. A lot of interesting venues on that gig. Two of them that stand out were The Sullivan Theater (open/outdoors) at the base of the Washington Monument in D.C.; we were scheduled to open for James Brown... who never showed. So there we were in front of 250,000 people expecting 'The King of Soul"..... so we dumped all the Jesus Christ songs and hit them with things like 'Freedom Jazz Dance', etc.... We had them rocking!!! The other strange gig on that tour was the Detroit Women's Prison (talk about a captive audience!!!). The tour ended with an offer from Todd Rundgren to produce the band, but because of the size of the band (I think it was about 14 pieces) the deal never came together. 

A friend, Gary Van Scyoc was playing bass with 'Elephants Memory' (John Lennon's NYC band). I was working on some demos with another friend (Mark Gillian) who was a staff songwriter for Don Kishner Music at the Record Plant (NYC) with Jack Douglas engineering (who went on to produce John Lennon, Aerosmith). As luck would have it, downstairs in 'Studio A' that night, Gary was recording with Elephants Memory. To make a long story longer, we finished up the demos and went downstairs..... and there I was doing percussion overdubs and listening to the playbacks in the control room with not only John Lennon which was mind blowing enough.... but also with Phil Spector who was producing!

The standout band through this period was The Michael Gregory Band, again teaming up with Gregg Hollister. At the same time two old friends of mine Stephan Galfas and Peter Roulinavage, (The now defunct House of Music Recording Studio/West Orange NJ) had me in for some recording dates. I worked there with various artists, the most notable ones being Deodato, and the Brecker Brothers, but I also had the opportunity to jam with people like Kool (from Kool and The Gang), Brand X, Jack Bruce, Will Lee, and Leslie West! Also during this period I performed at one of the last shows hosted by Murray 'The K', backing up Gary US Bonds, and Sam The Sham, at the old Stanley Warner Theater in Jersey City NJ (Marco's grandfather played the piano in the silent movies at the Stanley Warner!  How's that for coming full circle....)

I've also performed with Joe Lynn Turner (Fandango/Richie Blackmore's Rainbow), Rhett Tyler (one of the best blues guitarists... even when Stevie Ray Vaughn was still alive) and Vince Martell (Vanilla Fudge) who brought me on a gig at the 'Woodstock '95 Concert' at the original site. I hadn't been there since the original party back in '69...

So now I'm laying down the beat for Marco de Sade (Marco and I have wanted to play together for as long as I can remember) ... which when it all comes together...... well, let's just say that I have the island 'picked out'..... Ah, the peaks and valleys of Rock 'n Roll!!!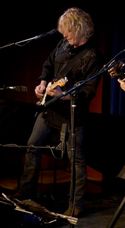 James Leahey:  Guitars
Jimmy Leahey has been a performing artist for almost 3 decades and most recently toured with Dennis DeYoung of Styx.  Other touring has included John Waite (Baby's, Bad English), Chris Cagle (CMT), Jill Rock Jones (Bad Boy South recording artist),  

He's also shared the stage with such artists as Alison Krauss, Vince Gill, Paul McCartney, Roger Waters, Billy Joel, Jon Bon Jovi, Sam Moore (Sam and Dave), Patti Smyth, Dionne Farris (Arrested Developement, Chrysalis, Grammy Nominee) and many more.....
 
Jim has performed worldwide. TV appearances on Jay Leno, Good Morning America, VH1 Classic, The Grand Ol' Opry, The US Open, The Radio Music Awards and has performed on countless radio programs.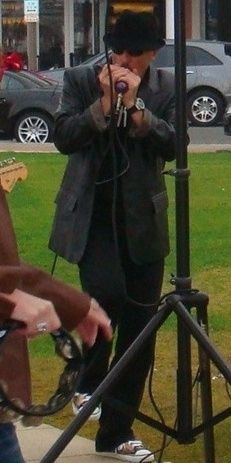 Marco Trezza
Harmonica and vocals
Before Gregg, Rick, and Greg came to Marco to form Marco de Sade in August of 2009, Marco Trezza had studied with many harmonica greats, including Jimi Lee (Memphis Blues Artist of the Year 2008), Jon Gindick, Dennis Gruenling, Richard Sleigh, RJ Harman, Dale Spaulding (Canned Heat), Cheryl Arena, Allan Holmes, Brian Purdy, Brandon Bailey, and the incomparable Jason Ricci. He has performed as a solo artist as well as a guest artist, sharing the stage with many bands including, Stomp the Yard, Blue, Mike and Linda Padulla with Danny Rongo, The Smokin' Aces, The Chase Brothers Band, The Flying Obersons, James Leahey, Rhett Tyler, Tas Cru, Lex Gray, Slim Allen, and Reba Russell. Marco and drummer Greg Hollenbeck were best friends for over 40 years.

"My journey began years ago when blues great Rhett Tyler handed me my first harmonica and said, 'You get it. I'm tired of you not playing anything.  Learn this and hurry up.'  After some initial painful struggles on my own, I got lucky, and discovered Jon Gindick's 'Harmonica Jam Camp' - 
http://bluesharmonicajamcamp.com
 -  This was an incredible experience that not only gave me an understanding of the instrument I would never have achieved on my own, but also gave me the tools and the forum to express my own voice. I met some of the most amazing harp players on the planet, some of whom are still my coaches and mentors to this day, such as Jimi Lee, Jason Ricci, Dennis Gruenling, Richard Sleigh, RJ Harman, and RJ Mischo. It's safe to say I could never have gotten here on my own.  Now here I am, playing with an astounding group of musicians, being produced by the incomparable twelve-time Grammy winner Ron Saint Germain.  Thanks to the incredible friends, teachers and mentors I have had the inestimable good fortune to find along The Path, I am living the dream.  I cannot thank all of you enough."   Marco